My Maccabiah Valentine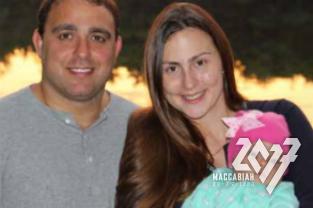 It's a good thing Gene's parents, Jews who migrated to the USA from Minsk, insisted on speaking also Russian at home. Otherwise the Captain of the American Judo team for the 19th Maccabiah Games wouldn't have met the woman who would become his wife, Inese from the Russian delegation.
The two first met in the entrance to Teddy Stadium and thanks to the Russian Gene has absorbed in his childhood, the two very quickly developed a lively chat, which became a romantic date in Jaffa, which was itself the beginning of a long session of transatlantic Skype chats once the Maccabiah ended.
In 2014, Precisely 3 years ago, on Valentine's day, Gene went down on one knee and asked Inese's hand in marriage, to which she of course agreed. Today the two live in Chicago and raise their little cute daughter, Milene Dora.